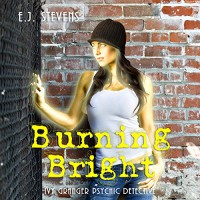 A fun Urban Fantasy that skirts the edges of my standards.
Things are not going well at the offices of Private Eye. Jinx is having demon problems, the city is overrun with pyromaniacal imps, and Ivy's wisp powers are burning out of control, attracting the attention of both the Seelie and Unseelie courts.
Along came a faerie queen.... It's the worst possible time for the Green Lady to call in a favor, but Ivy's bound by her deal with the glaistig. Too bad there's no wiggle room in faerie bargains.
Ivy must rid the city of imps, keep Jinx from murdering her one solid link to Hell, and fulfill her bargain with the Green Lady - with sidhe assassins hot on her tail.
Whispersync Deal Alert*: Kindle + Audible = $5.98.
Disclosure: GMB uses affiliate links, clicking and making a purchase may result in a small commission for me.
---
Source: I received this book free in return for an honest review.
BOOK DETAILS:
Burning Bright by E.J. Stevens, read by Melanie A. Mason & David Wilson Brown, published 2015 / Length: 7 hrs 32 min
SERIES INFO:
This is Book #3 of 4 (so far) in the "Ivy Granger, Psychic Detective" series. Book #4, Birthright just came out on audio.
**This review contains spoilers for the previous book(s).**
SUMMARY:
I was very happy to see character growth and change in this book, but unhappy to see an increase in elements that aren't to my taste.
Note: If you are frequent reader of Urban Fantasy, then this book will probably seem tame to you. Also, I haven't read the novellas, but apparently that was a mistake since it appears that some important things happened in the last one that impact this one. It's not absolutely necessary to read it, but I plan to go back and do so.
I'm not a big fan of the covers for this series. And this book is incorrectly categorized in Audible as "Mysteries & Thrillers > Modern Detective."
CHARACTERS:
Ivy Granger: I love the fact that we are seeing true character growth for her. She is learning to see herself and others more clearly
Ceffyl Dwr: Continues to be the perfect boyfriend with the tragic past (i.e. a bit of a stereotype). I liked the way he was shown to grieve after a certain event. I would like to see a bit more development in his character outside of his relationship to Ivy.
Ivy & Ceff: I still feel like the status of their relationship is a bit unclear. In the second book, she called him her "boyfriend;" but he had himself introduced (at her debut to fae society) as her "consort." Now the term "suitor" is being used. And his (former?) wife has been referred to as just "wife" but then as "ex." It is clear that Ivy, at least, does not consider herself to be married (which makes their physical relationship problematic for me).
I would also like to see more of her helping Ceff and being involved in his world, not just the other way around. I adore how deeply he loves her, but would like to see some detailed reasons for that love beyond just gratitude for her saving him in the first book. Her ability gives the perfect opportunity to overcome his not being a POV character.
--
There were some significant changes for other characters in this book, which I am excited to see play out.
WORLDBUILDING:
The world remains much the same as before, with a mix of things like vampires, hell & demons, and Celtic fae in a U.S. coastal city. We get some additional Celtic myths thrown in this time also.
PLOT:
We begin with the same prologue found in the previous books.
The ending resolves the current issues, and some of ivy's problems from previous books, while introducing some new ones.
HIGHLIGHTS / CAUTIONS:
Sparky is my favorite new addition, I love him and can't wait to see what becomes of him.
The manner in which Ivy handles the issue with Arachne.
Everything involved with the use of the apples.
I COULD HAVE DONE WITHOUT: The language, especially the 6 or so F-words, and vulgarity. (I don't remember F-words in the first two books, maybe I just automatically skipped them because I was reading rather than listening) / The (literal) blood bath. Some other gore.

OTHER CAUTIONS
: A lot of time is spent thinking or talking about Ivy & Ceff's (premarital) sex life, although she doesn't go into great detail.
NARRATION:
Notes: There were some production issues with the sound quality at the very beginning, but they went away. / This is the kind of dual narration where they split it by who's speaking rather than by chapters.
DAVID: Character voices differentiated = Yes. I really liked Hob's voice, and loved the one for the fire imp. I would have liked an accent for Ceff (although he does live off the U.S. coast). / Accents good = Yes / Phrasing, Pacing & Pronunciation = Yes / Emoting = Yes
MELANIE: Character voices differentiated = Yes, although everyone else got such great voices and accent that it made Ivy's voice seem kind of boring. I didn't like what they did with Ailinn's voice / Accents good = Yes / Phrasing, Pacing & Pronunciation = Yes, although some of the Irish words may have been wrong, I'm not sure / Emoting = Yes
Speed = listened on 1.25, my usual, but it was just a touch fast.
BOOK DETAILS:
Burning Bright (Ivy Granger #3) by E.J. Stevens, read by Melanie A. Mason & David Wilson Brown, published 2015 / Length: 7 hrs 32 min Buy Now | +Goodreads
Talk to Me (pretty please)

Can you recommend any low-swearing, non-explicit Urban Fantasy?
Do vampires & fae belong in the same world?

--

If you are a first time visitor, how did you discover my blog?
---
YOU MAY ALSO LIKE:
★★★★
[Review + Narrator Ivu]
---
---